Estee Lauder Re-Nutriv Ultimate Youth Creme
Estee Lauder Re-Nutriv Ultimate Youth Creme
Now I know what it feels like to be one of them beauty bloggers who always seem to get a never-ending supply of the latest and greatest beauty products. Perhaps it's time to switch to beauty blogging instead of "fashyon" (which we all know I fail at haha)? Nah. I would probably just hoard them products and sell them swag on eBay to buy -- you've guessed it -- Rick Owens leather jacket fashion. There goes my ethics. (HUWATTTT ETHICS??!?!?!) Just kidding. LOL.
This ultra luxurious 50ml jar of Estee Lauder's Re-Nutriv Ultimate Youth Creme (which retails for US$250... and comes with a mini golden spoon Midas would be proud of) somehow landed on my desk without my asking for it. I think it's perfect timing because a) my youthful looks (HUWATTTTT YOUTHFUL LOOKS ?!?!?!) are slowly deteriorating... like my grandma's kidneys and b) I'm running out of moisturiser.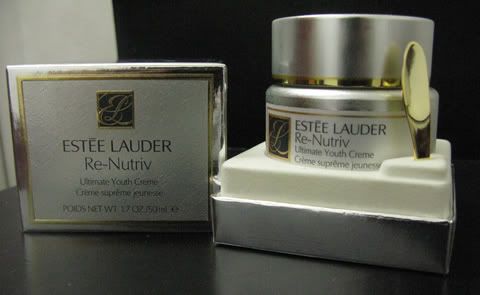 But unlike my very stubborn nan who refuses to help herself (how a geriatric can survive on a few sips of water each day when you're supposed to DRINK a lot astounds me -- her excuse: she's not "thirsty"), the secret beauty junkie in me opened the little silver box faster than you can say "DRINK LOLA DRINK".
I googled the product and based on the reviews I found so far, everyone seems to be raving about it (I don't know about you but for $250, I won't just rave... I'd do cartwheels + flying kicks as well!) and quite a number of people have noticed positive results in as little as 2 weeks.
Let's see how it goes. I'm not sure how this is gonna work out because I have funky skin - it's very dry whenever I'm at home (because of the aircon) and it gets oily whenever I stay outside for a long time. I like the cream so far. It doesn't feel greasy, it's very lightweight and the product does not have that strong fruity scent that some of the other creams have.
I'll keep you posted.
PS. Gifts are always appreciated so thank you.
follow me on Twitter