Serge Lutens, Adora Department Store Greenbelt 5
Serge Lutens, Adora Department Store

It's been a REALLY busy (and productive) week over here at Camp Bryanboy. Thank GOD it's Saturday. I went to four business meetings yesterday. Can you believe it? A girl's gotta do what a girl's gotta do to pay her bills... and all the nice and nifty things she desires.
In between meetings, I visited my favourite luxury emporium ADORA at Greenbelt 5. Click click click!
I always go there whenever I have the time. It's a lovely store filled with beautiful things none of us can afford.
As always, the store was empty. Regardless of the time of the day I go there, store staff always outnumber their customers. I wonder why. Is the location/door traffic awful? Are the prices too prohibitive? Their staff are very nice and polite. They ALWAYS, ALWAYS greet you whenever they see you as you walk throughout the store. Adora just opened earlier this year so who knows.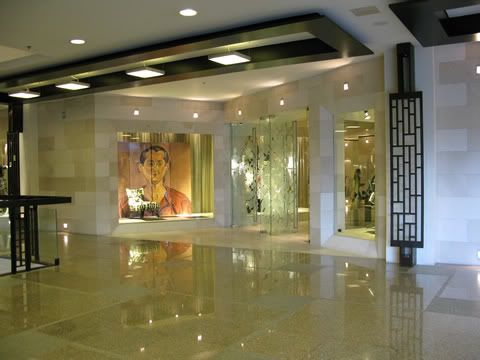 I spent about half an hour browsing and most of the Spring 2008 things I saw (Chloe bags in particular) are still at full retail or at 20% off whereas you can buy some of the pieces online (or at stores overseas) at 50-70% off! I love that they're carrying Cheap Monday jeans though but then again, I wore Cheap Mondays three years ago before it exploded so I'm kinda over those...
Enough about fashion.
I went to their perfume section for the first time (out of all the times I've been to the store) and boy I had fun.
Until this very helpful, very friendly, very cheerful, very perky, very inquiring, very very sales associate (let's just say her name is Ms. Very) came to the picture.
For about 10 minutes, I was very much happy educating myself with all these fancy schmancy perfumes I've never even heard off. There I was, on my own, toying with beautiful bottles, spritzing around tester strips, sniffing gloriously luxurious scents and fragrances. I was in scent heaven! What should I get for myself? What should I get for my mother who is celebrating her birthday in a few weeks? Etc etc etc.
I found something I really really loved: Un Bois Vanille by Serge Lutens... so I asked one of the staff to get me a bottle. I LOVE vanilla scents! One down, another bottle to go.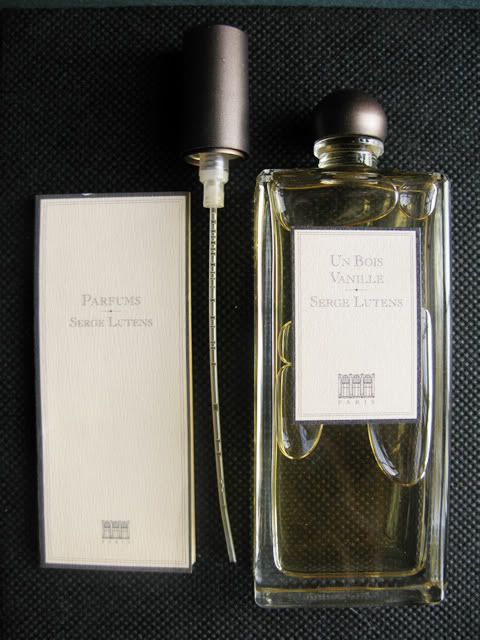 While the SA was away, I went ahead and browsed for my mom's present.
A few seconds down the line, another sales associate, the perky Ms. Very, came out of nowhere and disturbed the peace by asking me all these questions like a military sergeant firing his orders:
"how can I help you? is there anything I could help you with? are you looking for something in particular? what scents are you into? are you into citrusy scents? here's one of our best-sellers. no? you don't like citrus? how about woody scents? no? what about musk? you like musky scents? try this. ahh that's my favourite out of that line. good choice. here, why don't you try this (this white funnel thing was shoved to my nose). mmm it's good, no? you don't like? ok, this one is 1725. remember that. i think you should try it on your skin. give me your arm (spritz spritz on the wrist) ok.. let it linger for a while, relax, just relax, ok now try it. smell it. (uhhh it smells like soap/laundry) oh yes, i agree. ok how about this one. give me your other arm. (spritz spritz on the wrist) ok... let it linger again for a while... ok, now try it again. (uhhhh ok this one is ok)"
All of that happened in less than 60 seconds.
In a very nice, very helpful, very friendly, very cheerful, very perky and very inquiring way, of course.
LOL.
I totally forgot the fragrances I liked (before she came) while all of that was happening. My mind went blank and I felt trapped!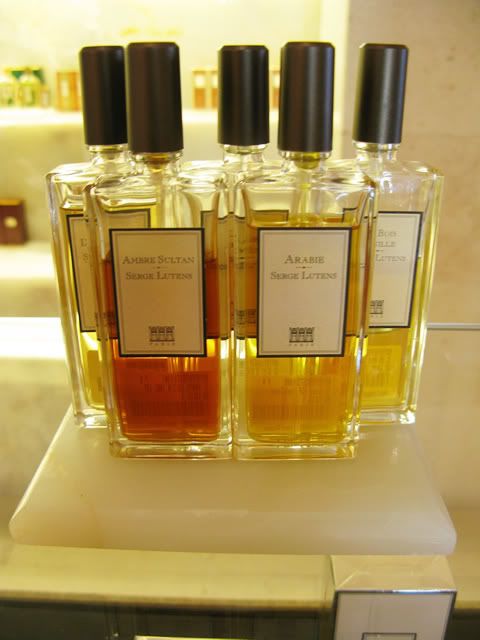 Maybe she came to me because they don't want anybody to spritz around tester bottles? Who knows.
I thought about telling the lady to hold up, calm down and let me explore on my own but I don't want her to think I'm rude. Besides, she was just doing her job. And she's so sweet.
And so very nice, very helpful, very friendly, very cheerful and very perky.
I really mean it!! In fact, I like her. She's fun!
But she was just too bloody nice!!!
I don't know about you but the way I see it, there are two types of shoppers.
The first type are the ones who know what they want. They go to the store with something in mind. These are the ones who are usually in need of assistance.
Then second type are the ones who don't know what they want so they go to the store to explore what options they have. These are the ones who should be given the luxury and the privacy to explore on their own... and be available when needed.
Of course I bloody don't know what I want. THAT'S WHY I'M BROWSING AROUND. Hello. Citrus? Musky? Wood? Floral? What do I know about fragrances? As a child, I grew up on bloody CK One and the closest I had to exploring fragrances was sniffing and rubbing those stupid fold-out strips on the pages of YM and Vogue! Clinique Happy is dat chu? Designer Impostor If you like CK Be you'll like U is dat chu?
Just kidding.
No I'm not. That's true hollywood story right there! Hahaha!
It was only in my later years, I "upgraded" to L'artisan, Annick Goutal, Penhaligons, Hermès.
What I meant by upgrade is the odd, occasional bottle here and there.
I mean really...
Notes? Base notes? What notes? Could fragrance shopping be any more difficult with all these fancy schmancy words?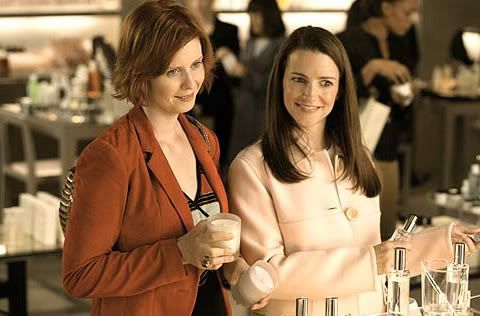 photo credit: hbo
I'm no perfume expert because I tend to stick to my usual ones and/or I only buy something new when I've run out. I also don't think the average person can answer the "what are you looking for" question when it comes to scents. Uhhh something nice? Something that works with your body chemistry?

photo credit: hbo
Buying fragrances, IMO, should be an intimate and discreet experience. You (and someone close to you, if you're not shopping alone) should be afforded the luxury and privacy to play with your senses and discover new scents on your own because, after all, you know what works on your body more than anyone else.
ANYWAY. With all of that being said, I was so turned off with what just happened (I know her intention was to help me)... I wanted to get out of the awkward moment as fast as I could so....
"Uhh that's all I'm getting (referring to the Serge Lutens bottle). I'll just come back at a later time."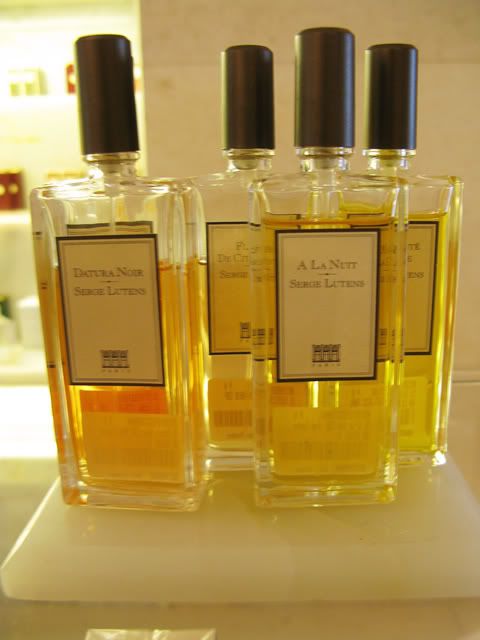 BTW, I'm SOOOOO glad I managed to take these photos while waiting. Go the rebellious me! I got stopped by one of the sales staff telling me photos are not allowed.
Ah well.
I know, I know. As if I've never learned my lesson right? I've complained about this whole photo policy many, many, many, MANY times in the past so I'm not gonna complain again.
OK FINE WHATEVER.
In all seriousness however, who does one contact anyway if they want to take photos in various stores? Store managers? PR people? Surely there must be a right way to do it, no? I really want to avoid this "no photos policy" the next time I whip my camera out. Would they grant permits to low production, point-and-shoot-camera-totting ickle ol' mere bloggers (who probably have more readers than some of the local print publications with a reach as far as bloody Timbuktu... I mean really, I know Bryanboy.com readers in Turkey... do they read Chukchak local magazine there????) such as myself? I HATE tooting my own horn because I like to think that modesty is one of my very best traits... so I'll leave it up to Women's Wear Daily, Teen Vogue, Style.com, Conde Nast Portfolio and the likes to do it. HAHAHAHA. *JUST KIDDING!! OMG I JUST READ WHAT I JUST TYPED AND IT MADE ME SOUND LIKE I'M FULL OF MYSELF, WHICH I'M NOT!!!!*
But yes... all I want is to be able to do my job and my livelihood (which is blogging... and that involves me taking photos of what I fancy, where I go and what I did) as freely as possible and hassle-free.
By allowing me (yes, me, the third world faggot!) take photos, not only I'll have content... y'all will benefit from my blogging too, no?
Oh well. I guess I demand wayyyy too much. Haha!
Email me and tell me you love me. My email address is [email protected] or SMS +63.915.785.1492.
I love you all as always.
PS. If you're in the Manila, y'all should run, don't walk, run, to Adora straight away. Explore their fragrance section. Those Serge Lutens fragrances are amazing. The one I bought smells sooo good I even used it straight away! Even though I had a little experience with Ms. Very, I would still come back! (OK maybe I'll avoid her for awhile because of this blog entry) but my dear readers, don't let her get to you!!! Haha ;)
follow me on Twitter