Kate Moss for Vogue USA: August 2008
Kate Moss for Vogue USA: August 2008
Gasp! A model! SHOCK HORROR! Supermodel (and I'm not using that term loosely) Kate Moss is on the cover of the August 2008 issue of American Vogue. Man, is Kate lookin a bit chunky or what? Just kidding! The supermo, who single-handedly sparked the heroin chic of bonanza 90s, is now a full-grown woman. Awww. Remember that line from SATC the movie? Vogue designers... Vogue photographers... Vogue airbrushing.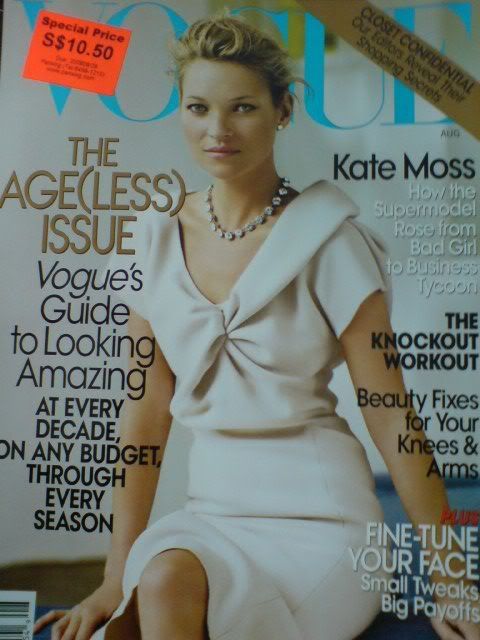 photo via tfs
I wonder what Snejana would look like twenty years from now. I mean think about it. If Rachel Zoe was the woman responsible for bringing anorexia in style in Hollywood via her zoebots, the lovely Snejana is the model responsible for bringing the likes of Olga, Vlada et al down the runways. In other words, she and her Russian gang made "heroin chic" look like a bunch of fat fighters/weight-watchers club members!
The $64 million question is: do you think this cover will sell to the masses? Conde Nast Portfolio recently reported that the May 2008 issue featuring the dull Gwyneth Paltrow is Vogue USA's worst selling issue, having sold only a mere 310,000 copies. Also, the April 2008 issue with Gisele Bundchen sold 350,000 copies compared to last year's average of 452,207. It's Vogue's worst-selling April issue since 2001.
Meanwhile, WWD mentioned that Conde Nast will print another 10,000 copies of its groundbreaking and HISTORICAL Vogue Italia July 2008 All-black issue. Yay Vogue Italia!
A spokeswoman for Condé said the company increased newsstand distribution of the special issue by 40 percent in the U.S., and will reallocate Italian copies earmarked for returns to the U.S. The company will also print another 10,000 copies to meet the demand for the issue.
Gurl that's gotta hurt, no? Big, big, big kudos to Vogue Italia Editor-in-Chief Franca Sozzani for making things happen!
follow me on Twitter