Bryanboy @ Milk Magazine, Hong Kong
Bryanboy @ Milk Magazine, Hong Kong
I guess it pays to have friends (in this case, friend of a friend) in various places. At least I didn't have to buy a plane ticket to Hongkie Kong!
Milk looks nice in my little press album, no?
Unfortunately, I could only put magazines pages here and not newspapers -- unless I crop them out. How do people keep their newspaper clippings anyway? I need to organize my life! I spent weeks looking for a huge photo album and this is the biggest I could find. It's cheap, it's made out of fake leather, and it's less than $20 (at National Bookstore). Everything else is butt-ugly baptism or wedding-whatever... yuck! When I have the money I'm gonna upgrade and have someone make me custom-made ostrich or crocodile leather-bound albums but I don't think that's gonna happen in this lifetime so I'll settle for this leatherette crap. It does the job anyway. Haha.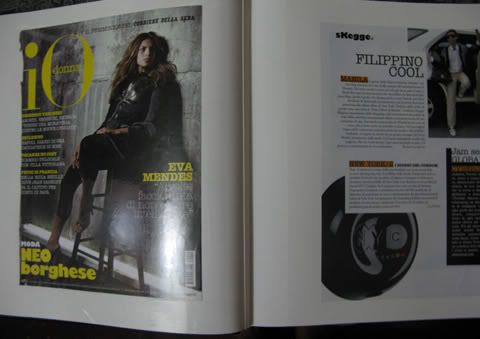 Thank you to CVS and Michelle Coo of Theodore's for my copy of Milk Magazine. You guys are so generous! Thank you thank you thank you so much!
PS. Is there anyone in Japan right now? I just remembered that I was mentioned in Fashion News Japan magazine ("Perfect" edition) that came out on June 28. I totally forgot to ask my friend Mrs. T to buy me a copy when she went to Tokyo last week (ugh)!
follow me on Twitter