What's inside, Sass & Bide?
What's inside, Sass & Bide?
Fresh from the runways of Sydney's Overseas Passenger Terminal to my room at the Westin, a brown paper bag is waiting on my bed.
What's inside, Sass & Bide? Click click click!
When you ask random, non-fashiony people what they know about Australian fashion, it's not unusual to hear labels like Collette Dinnigan, Ksubi and of course, Sass & Bide, dropped left and right.
I'm sure many of you are familiar of Sass & Bide. Their show for Vie (Sass & Bide's diffusion line) was one of the events I was looking forward to when I was in Sydney. I'm extremely familiar of their work and I own a few Sass & Bide pieces here and there.
Anyhoo.

Instead of boozing in between shows, I went backstage with Patty to see a preview of the clothes. I also met one of the designers, Heidi.
Look at the clothes! It's sooo meeeee! The gold sequined piece is calling my name.
The lineup...
Some of the models getting all dolled-up.
Forward ho with the show!
Click here to watch the video.
Here's the first look...
Don't you just love the amazing view from the front row where you can see the clothes, the models, the lights and the runway up close and personal?
Look at those gorgeous skinny stems. Will someone please for the life of god make me tall? Dubbed as the new jean, those ruched black shiny, shimmery leggings are called "Black Rats". They're priced at $175 per pair.

And the finale...
Ask any fashion week attendee about which show and collection they love and all of them will give different answers. Fashionistas often praise and herald "ground-breaking" and "edgy" designers whereas buyers with a keen eye will answer based on what they think will sell to the consumer. But how many will answer answer based on what they could personally wear? As for me, well, I really, really loved Sass & Bide Vie purely because of selfish reasons: I COULD SEE MYSELF IN THEIR CLOTHES... as in I could wear them day in and day out. It's so... me!
So what's inside the bag?
Well, I packed light for the first time ever and I only brought a mere 30 kilos with me to Sydney... half of them are shoes, bags and accessories LOL. I sort of ran out of outfits to wear (which is a pathetic excuse really to say "I want to wear something new"). One of my newfound Aussie friends and my Sydney host, Bex Sheers, is a freelance stylist and she came up with this fabulous idea of me wearing Sass & Bide to the Australian Fashion Week closing party.
It's funny because I also have this idea before going to Sydney how I want to visit a lot of Australian designers' studios and showrooms to see the clothes, try them on and take pictures of me wearing the clothes for everyone to see, in good ol' Bryanboy style. It didn't happen because I just didn't have the free time -- Aussie boys aside, I think I now have the perfect excuse to go back! It's a fun idea though but now that I took home over $150 worth of god damn Cadbury Crunches, we'll see whether or not I'll be able to fit into sample sizes. Hahaha!

Out of the all the pieces they sent, I went for the gorgeous khaki anorak. I paired it off with one of my black tops, my long Louis Vuitton rabbit fur scarf which I wore inside and Chanel 2.55 bag.
Brand-spanking new and as seen on the runway.
I wore the look with the black rats leggings, which I got to keep. THANK YOU THANK YOU THANK YOU! Like Cinderella, I had to return the anorak and the other tops I didn't use the next day.
Wow look at me! I'm turning into one of "em"!
Front row... stylist... events...borrowed clothes... gifts...
TINSLEY MORTIMER IS DAT CHU?
HAHAHAHAH!
In the Philippines, there's a term for socialites who become celebrities (and get endorsements left and right) because they are members of the press and they write about themselves non-stop: Gucci Gang.
As for me... well... what do you call bloggers who become Z-list celebrities (oh look at my thick face!) because they have a blog and all they do is write about themselves non-stop: CeleBlogTard?
Oh dear.
OH NO BRYANBOY DIDN'T!!! What am I getting myself into... haha!
Now. Enough joking around.
On a more serious note...
I love them Black Rats leggings. I really do. In fact, I wore them two evenings in a row! This is me at The Ivy.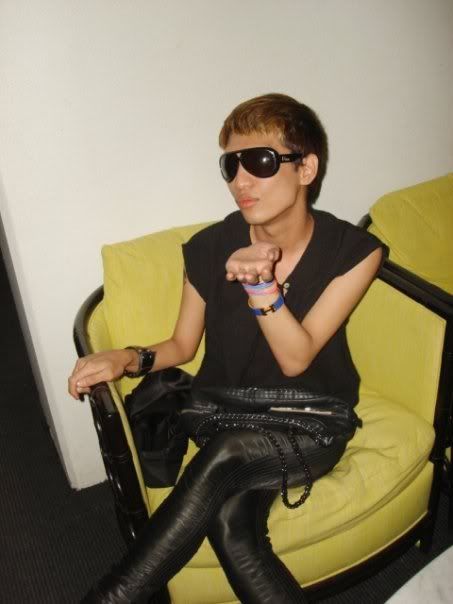 People adored them black leggings wherever I went. Both men and women LOVED them. They made my fat ass look damn bloody good. Lots of people -- random strangers -- came up to ask where they are from. Julien's host Angela made me wear her 4-inch wedges so I walked around the bar like a hooker on crack. Sonny should have pictures of me prancing around the Piano Room. It was all very fun and good -- a reflection of the new Sass & Bide Vie collection.

follow me on Twitter