Meedja Whore
Meedja Whore
One of the things that surprised me the most during Rosemount Australian Fashion Week is how the organizers (IMG) AND traditional media gave much-needed credence (and a very warm welcome) to bloggers. I've always considered myself as a fashion outsider/voyeur/spectator so for me to actually fly my arse out of the third world on my own dime to experience and witness fashion in action for the very first time was mind-blowing. I was nervous and scared at first. I'm no journo who often goes to sponsored junkets and international events backed by big media corporations. In the words of Clueless Tai, I'm a virgin... who can't drive.
But yeah... never in my life I've been proud to say "I'm a blogger". Being the one-man circus that I am, I confess that it was somewhat intimidating to be milling around the tents, the "media" room and the front-row surrounded by hardworking journalists of impressive resumes and backgrounds: people who truly worked their way to where they are to deliver information to the public. I highly doubt (I said doubt... correct me if I'm wrong) Australia is the same as the Philippines where anyone with the "right" last name can get a position in the media with a snap of a finger. In any case, everyone in RAFW was super, super nice and I learned so much from everyone just by interacting with them.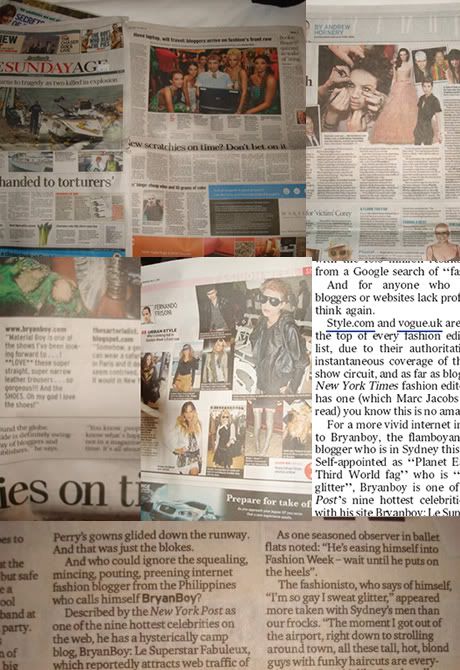 And then there's ickle ol' me. The online freak who lives in front of the computer blogging about himself and his unhealthy obsession with all things fashion all-night long. Isn't it amazing? I don't know about you but it's a bit weird waking up to Australia's leading newspapers with my fug fug fugly mug on it. But yes... I'm extremely glad they are promoting blogs, bloggers and blogging. I even made it on Australian television! ROFLMAO!
We live in interesting times indeed. I know I have lots to learn. Every day is a new day and I try to absorb as much as I can with every experience, good or bad. I was telling a friend on my way to the airport how I want to take up further education (journalism, english classes, etc.) to improve my craft and expand my vocabulary. I have a little laundry list that I want to fulfill. We'll see. Here's a toast to evolution... cin cin!

PS. Thanks to The Australian, Sydney Morning Herald, The Age (Melbourne) and Sun Herald.
follow me on Twitter