Bryanboy's "A-HA" Moment #16,311: Diane Pernet
Bryanboy's "A-HA" Moment #16,311: Diane Pernet
I had the honor and pleasure of speaking to fashion icon Diane Pernet on the phone last week. A new friend rang her while we're walking on the streets of Sydney looking for a nightclub. I'm a big, big, BIG fan of Diane and to be able to speak to her in this lifetime is, gosh, something else. She's super nice, super cool and her soothing voice... Diane is a deity!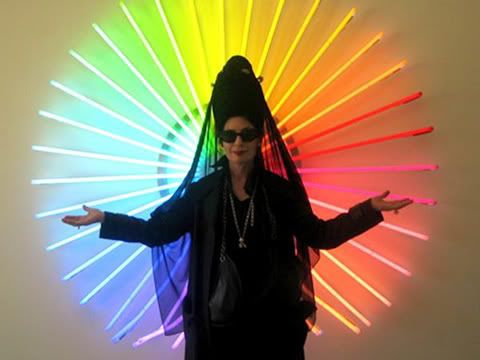 Photo: Diane Pernet/MySpace
Everything went well until this huge ass garbage truck (which made a lot of noise) came outta nowhere went straight to my direction. Everything happened so fast so I screamed on the phone something like....
Me: "OH MY GOD OH MY GOD OH MY GOD OH MY GOD DIANE I'M GONNA DIIEEEEEEEEEEEEEEEEEEEEEE AYYYYYYYYYYYYYYYYYYY!!!! AYYYYYYYYYYYYYYYYY!!!!!!"
in the loudest, gayest voice EVER only to realize the truck wanted to park near the pavement.
Diane Pernet, fashion icon, journalist and blogger, world traveler, mentor to many and staunch supporter of talent and creativity, was still on the phone with me. Y'all should've seen the priceless look on my face when that happened. Put yourself in MY shoes and tell me how you'd react.
Oh dear. The things I get myself into. It's funny reminiscing about it now but back then... man, oh man oh man, it was fucking embarrassing.
I am so sorry Diane!!! I hope to meet you one day!!!

PS. On a lighter note, do that to Miranda Priestley and bitch would prolly say "that's all" before hanging up on you. LOL!!!!
follow me on Twitter