Victoria Beckham's Priceless Expression
Victoria Beckham's Priceless Expression
The photo says it all. Posh Spice at Marc Jacobs. Look at those love handles! HAHA!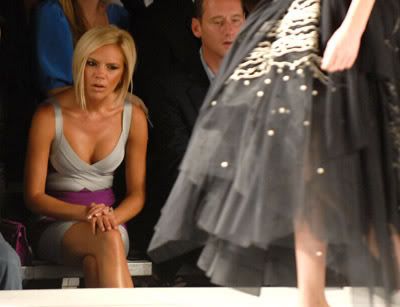 Photo credit: TFS
Oh and someone from the New York Post is *so* not going to be invited at the next Marc Jacobs show.
WAY OFF THE MARC: KOOKY CATWALK KILLS THE MOOD
By MAUREEN CALLAHAN

September 11, 2007 — What is wrong with Marc Jacobs? Last night - fresh off a round of positive press in which the rehabbed, newly buff designer claimed to have gotten his entire life together the cool girl's favorite designer indulged in a remarkable display of self-destruction. Not only did his show start two hours late, at 11 p.m. (this after a very public flogging by the industry just a few seasons ago for a 90-minute delay), but he opted for a gimmicky "backwards show," taking, with great presumption, his applause before ever sending a single look down the runway.

As for those looks: again, what is wrong with Marc Jacobs? For all its highbrow references, Comme des Garcons, Martin Margiela, a touch of Bauhaus, this collection was an unmitigated disaster. Aside from the shoes, which were feats of engineering, and one dress, a beaded blood-red number, the clothes were a fashion-school hodgepodge of what a fashion-school student would most likely - and incorrectly - call "deconstrucionist fashion." That said, Jacobs is a visionary, a true talent who both predicts and dictates trends - but this collection, and the screw-you attitude with which it was presented, were just begging for harsh criticism. Sorry to oblige.
follow me on Twitter